Learning Management Systems and Online Education
What is a learning management system?
A learning management system (LMS) is the software that is used to manage a training program, a virtual classroom, online programs and other online events.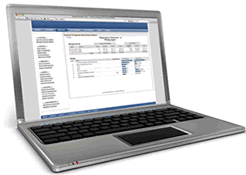 These software systems are created to collect and distribute content quickly on a platform that is web-based.
Organizations use LMSs for staff and management training, while traditional and online colleges use an LMS to administer their online college classes to students.
Additionally, learning management systems are developed to track and report the data that is kept within the system, and many of the LMSs are integrated with performance management systems. This functionality provides businesses or colleges with the ability to evaluate how employees or students are performing, including competency management, appraisals and coursework scores, and some also contain functions that assist with recruiting and rewards to help employers.
One of the best advantages of learning management systems is the versatility that they provide, as they can be created with specific aspects that cater to an organization's needs. A popular online learning management system that is used by colleges and universities to administer online learning of some, or all, of their programs is blackboard.
How learning management systems are used in online learning
When applied to college distance learning, e-learning management systems are set up to make the administration of teaching centralized and automated and offer the ability for students to approach their education in a way that is self-guided and easy to use. The lessons and instructions for online classes are assimilated within and dispersed by the LMS to the students and the instructors can easily access everything that is necessary to assimilate grades for the coursework for each student.
The online learning experience for college students
Many accredited online universities use a form of a learning management systems (LMS) to disseminate lessons and instructions to their students taking classes from home or office by distance learning.
Essentially, everything that a distance learner needs for their coursework can be found in the learning management system, including the syllabus, contact information for the instructor, classmates bio and information, discussion boards and study forums, study materials, digital drop box for dropping off assignments, e-books etc.
Distance learners are provided ample time to become familiar with the online portal (LMS) of the college through which they will be taking classes. Each lesson has a consistent format for students, and the online learning format of the information contained in the portal.
Students can easily submit their coursework, essays and tests in the learning management system via a digital drop box as well as access libraries and e-books that are essential for completing the coursework. Final exams and grades for an online course are also administered and dispersed via the e-learning management system.
The major advantage of e-learning managements systems for distance learning classes is the 24/7 accessibility for both instructors and students. This allows students the choice of studying at times that are convenient to their schedule and does not limit them to a college campus course that must be attended at a specific time on certain days of the week. This flexibility also allows instructors to respond to students queries and monitor how students are performing at times that are convenient to the instructor's schedule as well.
Future of distance learning via LMS
Considering the improvements in technology and software that are occurring in this fast-paced world, learning management systems are continuously enhancing how educational institutions are able to offer students the ability to achieve their college education online. Some learning management systems have incorporated advanced video-conferencing technologies such as Skype to allow real-time video conferencing for online students.
As we move into the future of distance learning via learning management systems, we can look forward to more functionality of these systems and newer features that are more interactive and fun and that should bring distance learning closer to physical campus learning.
Return to the top of About Learning Management Systems and Online Education