Online PhD Programs
When considering online PhD programs restrict your search to accredited colleges. You want the most highly regarded academic honor, a real doctorate degree.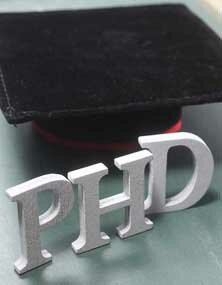 Your participation in a doctoral program will:
certify your personal commitment and passion to your field of study
allow you to further your career
fulfill a lifelong dream of learning and discovery.
With a doctoral degree, you join the ranks of those who receive requests to consult, speak, and write within their chosen fields.
Earning a PhD online also gets you the chance to become a professor and teach in an accredited university - campus-based or online.
Why should you get a PhD online?
Online education allows you to reach your goals while you are busy working, supporting your family, and being involved in your community.
If you already have a master's degree, a doctoral degree takes you to the next level. When you pursue your PhD degree online, you study during the hours that suit you best. You can keep working and earning while you study.
One of the most powerful aspects of completing a PhD is the chance to be recognized as a global leader in your field.
Choose your preferred graduate program from a wide pool of universities with online degrees without leaving your current location. When you pursue your doctorate program online, you get the very best education with access to the best professors and industry experts to gain the latest knowledge in your field of interest.
PhD vs. Doctorate Degree?
What does PhD stand for? a PhD (Doctor of Philosophy) is a type of Doctorate degree, so, all PhD's are Doctorate degrees, but not all Doctorate degrees are PhD's.
Popular accredited distance learning PhD degrees that you can earn include those in business, education, health services, human services, computer science, IT, social work, management, psychology, public policy and administration, marriage and therapy in addition to other programs.
Accredited Online PhD Program - Specializations
Are PhDs earned online of the same quality as traditional PhD programs?
In the U.S higher education system, if you enroll in an accredited program, your education will be of the same quality as a campus-based program. Your school's accreditation ensures that your degree is recognized because it has been evaluated by the United States Department of Education.
As you consider earning a PhD degree through distance learning, check that the school you choose is accredited. That way, your education is respected in the industry. You will also qualify for any form of financial aid. You can look up the school's accreditation in the US Department of Education or the Council for Higher Education Accreditation databases.
Your diploma will not show that you earned your degree by distance learning. Display your diploma proudly and feel good about earning your doctoral degree online. It is as legitimate and prestigious as a traditional degree.
Is financial aid available for online students?
Yes. If the college or university that you choose is an accredited institution, as a distant learner, you will be entitled to the same government-based financial aid options as you would when attending a school campus.
You must fill out the FAFSA, just as you would with any other degree. Being a candidate for a PhD also allows you to tap into a whole new pool of opportunities.
Because PhD's are mostly based on research, many reputable schools receive research grants. These grants support students through institutional financial aid or work-study programs. Ask the institution of your choice what opportunities there are for you.
Is a degree designed for online learning completed purely online?
Not all PhD programs are completed 100% online. Some of the programs require campus visits at some point while others require face-to-face residencies that take place on-campus or in different locations that a student may choose. Depending on the specific online doctoral degree, you may also need to do an internship or practicum.
Is pursuing a program online suitable for everyone?
Ideal candidates for doctoral programs in general are:
Industrious and highly motivated.
Work well without direct supervision.
Manage pressure and tight timelines well.
Have a passion for their area of interest.
Enjoy the rigors of academic life.
Return to the top of Online PhD Programs Page