Online Masters Degree Programs
An online masters degree is a graduate degree designed for learners who, for whatever reasons, cannot attend a campus-based program.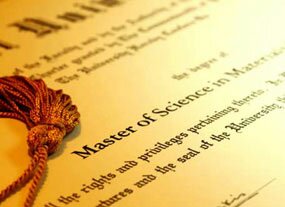 An accredited degree earned by distance learning, has the same value as a degree earned through classes on campus.
A master's earned traditionally, or by distance learning, shows that a student has advanced knowledge in an academic discipline or professional field, making that student an authority on the subject.
Master's programs are awarded in many disciplines by both campus-based colleges that offer online degree options of their programs, as well as online schools.
When considering to learn via distance education, choose only an accredited program to be sure your industry will recognize and accept your credentials.
Why pursue a graduate degree by distance learning?
In hard economic times, many people need more money. An online graduate degree makes you more desirable to potential employers. It builds into your current knowledge and expertise, so you perform better at work. The degree also lets you reach for higher positions in a company.
Apart from selecting the right graduate program, to succeed in an online program, you need to be committed, motivated, organized and disciplined in your studies.
Is an online master's degree for you?
Although it can further your career and give you better chances for professional and financial success, it is not for everyone. Learning online calls for a strong commitment. Success depends on motivation, good organization, and an ability to focus well.
Program types
The typical programs fall into the typical Master of Arts (MA) or Master of Science (MS or MSc) categories. The Master of Arts focuses on liberal arts:
Humanities,
Fine Arts,
Theology,
and Social Sciences.
The Master of Sciences is awarded in disciplines such as Natural Sciences, Business, and Technology. Within either a Master of Arts or Master of Science degree, you can specialize in a specific field such as Education, Business, Criminal Justice, Human Resources, Creative Writing and other specialties.
Other master's degrees have more specific titles, such as the popular Master of Business Administration (MBA), Master of Education (MEd.), Master of Public Health (MPH), Master of Fine Arts (MFA), etc.
Not all graduate degrees suit online learning. For example, degrees in performing arts or science-related programs that need laboratories, clinicals, experiments, etc, usually happen on campus.
Degree Specializations
What should a learner expect from this online graduate program?
A typical online master's program will include core courses based on the area of study. For example, the Master of Education may include core courses such as Teacher as a Professional, Curriculum Design and Instruction and Assessment.
A masters program undertaken online, just like the traditional ones, usually end with a thesis, a practicum, or a comprehensive exam.
Some universities require a capstone course during the final year. This course can include research projects or internships.
Most online colleges make use of advanced and user-friendly learning management systems (LMS) software to teach lessons. In such systems, the format is the same in every lesson.
During the course of the study, students may go to specified places and meet with faculty and other students in the program to learn and network.
Choosing the right masters degree program
Choose a graduate degree that meets your goals and one which is also accredited. Accreditation shows that a program meets the educational standards set by the educational accrediting agency. Employers and other colleges recognize work done within an accredited program. Attending an accredited online university opens the door to financial aid.
Many fake online colleges and diploma mills pose as accredited schools. They take your money and give you a fake degree. Check any college through the US Department of Education or Council on Higher Education Accreditation's databases if you suspect that it may not be accredited or legit.
Return to the top of Online Masters Degree Programs