Online Education Degree Programs
Teaching Degrees & Certificates
Online education degree programs, teaching programs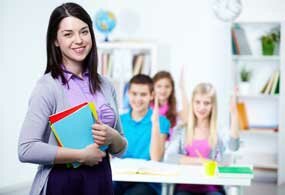 and certificate courses offered by colleges with online programs provide aspiring and existing educators and teachers with flexible opportunities to advance their careers.
Individuals interested in changing students' lives by becoming a teacher can enroll in distance learning education programs that includes preparation for state licensure.
Educators interested in pursuing a career in curriculum design, educational administration, supervision or educational leadership can take all their courses online.
Current teachers can also use distance learning to shift into another specialization - such as special education or reading instruction - or take their classroom experience to the next level with a graduate degree in education.
Advantages of online education and teaching programs
In addition to the same strong curriculum and professional instructors as campus-based programs, education programs disseminated through distance learning provide their own advantages:
flexible schedule that allows you to learn where and when you want, at your pace
classes designed for working adults that teach the skills needed to succeed
exposure to educational technology that is shaping how students learn, and more
Programs & Specializations
Making the leap into an online education program
Other than the virtual format, the online education degree programs are almost identical to their campus-based counterparts. To succeed in an online program, however, keep these tips in mind:
Online learning uses the same skills as traditional classroom-based learning. You don't have to be intimidated by the use of computers and technology in an online program.
Make use of the online tools provided by the program, including schedules, access to electronic textbooks and library resources, virtual classrooms, and communication with instructors and classmates.
Some distance education degrees are self-paced, while others require you to attend virtual classes at specific times. When deciding on a program, consider whether you would work better with the set class times.
Utilize the support provided by the program. This includes technical support to deal with problems with the online learning interface. Schools may also have academic advisers, and instructors make themselves available for questions. These resources will keep you focused and on track with your education.
Education requirements
Your qualifications will vary depending on the course of study you choose. Typical distance learning education degrees require 36 to 60 semester hours, depending on your program level. For graduate study, some colleges include an accelerated master's degree in education track if you already have a bachelor's degree in an area in which you want to teach.
Many programs also require a GRE test score. Some online universities in the Unites States accept international students, so if you're applying for a distance learning education degree from overseas, you may need to take the TOEFL exam.
Degree levels and program focuses
Education is a broad area, and an online teaching degree or education program can take you in several different directions. In general, graduates focus on a specific level, such as Elementary, middle or high school. Elementary teachers are often generalists and must know many topics, including math, science and reading. Middle and high school teachers usually specialize in one or two areas. Other concentrations, such as special education and reading instruction allow teachers to move to different specialized levels. Thus online education degree programs are available from online universities in a variety of subjects:
Associates degree in education - if you are ready to make a commitment to education, you may find that beginning with an associates degree best suits your needs.
Bachelor's degree in education - this undergraduate degree prepares you for classroom teaching at the k-12 level in various disciplines.
A masters or a doctorate degree in education provides you with a solid foundation for participating as an educator or administrator in various career paths, including K-12, higher education and corporate learning.
Instructional technology - is a more specialized program that imparts skills on how to integrate various educational media and technologies to maximize students' learning.
Curriculum design - for those who want to become experts in curriculum design to help educators deliver online education/e-learning, this specialization deals with curriculum and instruction, as well as curriculum assessment for various categories of education.
Educational administration - if you're interested in pursuing a career in educational administration, supervision or educational leadership, this option is for you.
Educational leadership courses - this specialization will prepare you for a career in higher education, adult education leadership, community college, or K-12 educational leadership.
Educational technology - this degree specializes in curriculum and technology, instructional technology, integrating technology in the classroom and teaching with technology.
Literacy education, language and gifted programs - these specializations will prepare you for helping learners master reading and writing skills, and meet the needs of students who possess gifted characteristics and talents.
Special education - this degree is well-suited for those interested in pursuing a career working with learners who have special needs.
What can you do with your education once you graduate?
Education is one of the largest professions and according to the Bureau of Labor Statistics, 7.2 million teachers worked in the United States in 2009, with 3 million teaching at the elementary and middle school levels. As the population increases, more teachers will be needed; and as the government raises the standards for students, more highly-qualified teachers will be needed, especially in high-need locations and topics, such as math and science.
Teaching in a public school, however, is not the only option for graduates. Private schools and community colleges are also in need of qualified teachers, as are science museums, nature centers and zoos, and publishing companies. While teaching in a public school usually requires teachers to possess state licensure, some of these other organizations are more interested in your professional and academic experiences. If you are looking for job security, the possibilities are endless with a degree in education.
Return to the top of Online Education Degree Programs