University of Phoenix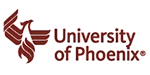 University of Phoenix is committed to providing a balanced education that combines academic theory with practical application. Online programs give working students the flexibility they need to pursue their education and advance in their careers.
The university offers associate, bachelor's, master's, graduate certificates and doctoral degree programs plus continuing education classes in business, criminal justice, education, human services, nursing/health care, psychology, technology, natural sciences and the humanities. Courses combine academic theory and practical application.
University of Phoenix participates in the Federal Military Assistance Program and has a number of university scholarship programs. A national scholarship search helps students find additional funding options.
University of Phoenix is accredited by the Higher Learning Commission (http://hlcommission.org). Since 1978, University of Phoenix has been continually accredited by the Higher Learning Commission and its predecessor. University of Phoenix obtained its most recent 10-year Reaffirmation of Accreditation in 2012–13. A comprehensive evaluation is scheduled for 2016–17, and the next Reaffirmation of Accreditation is scheduled for 2022–23.

---
University of Phoenix Online Programs
Associate's Degrees
Associate Of Arts With A Concentration In Communications
A.A - Professional Focus
A.A with a concentration in General Studies
A.A Concentration In Accounting Fundamentals
A.A Concentration In Accounting Fundamentals (certificate Track)
A.A Concentration In Business Fundamentals
A.A Concentration In Retail Management
A.A Concentration In Retail Management (certificate Track)
A.A With A Concentration In Hospitality, Travel, And Tourism
A.A in Criminal Justice
A.A Concentration In Education
A.A with a concentration in Human Services
A.A Health Administration/electronic Health Records (certificate Track)
A.A With A Concentration In Health Administration
A.A With A Concentration In Health Administration With A Health And Wellness Administration Foundations (certificate Track)
A.A with a concentration in Health Administration/Medical Records (Certificate Track)
A.A With A Concentration In Psychology
A.A Concentration In Information Technology With Cisco Networking Certificate
A.A Concentration In Information Technology With Database Administration Certificate
A.A Concentration In Information Technology With Desktop Support Certificate
A.A Concentration In Information Technology With Health Care Information Technology Certificate
A.A Concentration In Information Technology With Information Assurance And Security Certificate
A.A Concentration In Information Technology With Multimedia Development Certificate
A.A Concentration In Information Technology With Network Support Certificate
A.A Concentration In Information Technology With Programming Certificate
A.A Concentration In Information Technology With Web Administration Certificate
A.A with a concentration in Information Technology
Bachelor's Degrees
B.S. In Communication
B.S. In Communication With Cultural Studies And Communication Certificate
B.S. In Communication With Journalism Certificate
B.S. In Communication With Leadership Communication In Organizations Certificate
B.S. In Communication With Marketing And Sales Communications Certificate
B.S. In Environmental Science
B.S. In History
B.A in English
B.S. in Biological Science
B.S. in Communication with Associate of Arts concentration in Communication
B.S. in Communication with Communication and Technology Certificate
B.S. In Accounting
B.S. In Business
B.S. In Business With Digital Marketing Certificate
B.S. In Business With Associate Of Arts Concentration In Business Fundamentals
B.S. In Business With Associate Of Arts Concentration In Retail Management
B.S. In Business With Financial Planning Certificate
B.S. In Business With General Management Certificate
B.S. In Business With Hospitality Management Certificate
B.S. In Business With Human Resource Management Certificate
B.S. In Business With Marketing Certificate
B.S. In Business With Operations Management Certificate
B.S. In Business With Sales Management Certificate
B.S. In Business With Small Business Management And Entrepreneurship Certificate
B.S. In Business With Supply Chain Management Certificate
B.S. In Management
B.S. in Accounting with an Associate of Arts with a concentration in Business Fundamentals
B.S. in Business with Associate of Arts Concentration in Accounting Fundamentals
B.S. in Business with Business Administration Certificate
B.S. in Business with Project Management Certificate
B.S. in Management with a Concentration in Manufacturing Sector
B.S. In Criminal Justice Administration With A Criminal Justice Management Certificate
B.S. In Criminal Justice Administration With A Criminal Justice Security Certificate
B.S. In Criminal Justice Administration With A Cybercrimes Certificate
B.S. In Criminal Justice Administration With A Human Services And The Criminal Justice System Certificate
B.S. In Organizational Security And Management
B.S. in Criminal Justice Administration
B.S. in Criminal Justice Administration with an Associate of Arts in Criminal Justice
B.S. in Education/Elementary Teacher Education
B.S. In Human Services With A Concentration In Addictions
B.S. In Human Services With A Concentration In Family And Child Services
B.S. In Human Services With A Concentration In Gerontology
B.S. In Human Services/management
B.S. In Health Administration With A Concentration In Health Management
B.S. In Health Administration With A Concentration In Long-term Care
B.S. in Health Administration with a concentration in Emergency Management
B.S. in Health Administration with a concentration in Health Information Systems
RN to Bachelor of Science in Nursing
B.S. In Psychology
B.S. in Psychology with an Associate of Arts concentration in Psychology
B.S. In Information Technology
B.S. In Information Technology With Advanced Business Analytics Certificate
B.S. In Information Technology With Advanced Information Systems Security Certificate
B.S. In Information Technology With Advanced Multimedia Development Certificate
B.S. In Information Technology With Advanced Software Developer Certificate
B.S. In Information Technology With Associate Of Arts Concentration In Information Technology
B.S. In Information Technology With Cisco Networking Certificate
B.S. In Information Technology With Desktop Support Certificate
B.S. In Information Technology With Health Care Information Technology Certificate
B.S. In Information Technology With Information Assurance And Security Certificate
B.S. In Information Technology With Network Support Certificate
B.S. in Information Technology with Advanced Networking Certificate
Master's Degrees
Master Of Business Administration
Master Of Business Administration With A Concentration In Accounting
Master Of Business Administration With A Concentration In Energy Management
Master Of Business Administration With A Concentration In Finance
Master Of Business Administration With A Concentration In Global Management
Master Of Business Administration With A Concentration In Health Care Management
Master Of Business Administration With A Concentration In Human Resource Management
Master Of Business Administration With A Concentration In Marketing
Master Of Business Administration With A Concentration In Project Management
Master Of Business Administration With A Concentration In Technology Management
Master Of Management
Master Of Science In Accountancy
Master Of Public Administration
Master Of Science/administration Of Justice And Security/global Homeland Security
Master Of Science/administration Of Justice And Security/law Enforcement Organizations
Master of Science/Administration of Justice and Security
Master Of Arts In Education/elementary Teacher Education
Master of Arts in Education/Adult Education and Training
Master of Arts in Education/Secondary Teacher Education
Master of Arts in Education/Special Education
Master of Health Administration
Master of Health Administration/Education
Master of Health Administration/Gerontology
Master of Health Administration/Informatics
Master of Health Administration/Master of Business Administration
Master of Health Administration/Master of Business Administration/Gerontology
Master of Health Administration/Master of Business Administration/Human Resource Management
Master of Health Administration/Master of Business Administration/Informatics
Master of Health Administration/Master of Business Administration/Project Management
Master of Health Administration/Master of Business Administration/Sustainability Management
Master of Health Administration/Sustainability Management
Master of Science in Nursing/Master of Health Administration
Master of Science in Nursing/Nurse Administration
Master of Science in Nursing/Nurse Education
Master of Science in Psychology
Master of Science in Psychology with a concentration in Industrial Organizational Psychology
Master Of Information Systems
Master Of Information Systems With Business Analytics Certificate
Master Of Information Systems With Information Systems Audit And Control Certificate
Master Of Information Systems With Information Systems Management Certificate
Doctoral Degrees
Doctor Of Business Administration
Doctor Of Management In Organizational Leadership
Doctor Of Education In Educational Leadership
Doctor Of Education In Educational Leadership With A Specialization In Curriculum And Instruction
Doctor Of Education In Educational Leadership With A Specialization In Educational Technology
Educational Specialist
Doctor Of Health Administration
Doctor Of Management In Organizational Leadership/information Systems And Technology
Return to the top of University of Phoenix Accredited Online Degrees
Return to the top online Schools