Capella University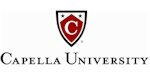 Capella University is committed to providing the highest quality bachelor's, master's and doctoral online college programs to help students accomplish their goals. Through innovative forms of distance learning,Capella offers degree programs in business and information technology.
Three-quarters of Capella University students receive financial aid from Federal Pell Grant program, Federal Stafford Loan programs, and Capella-funded scholarships. Military benefits, including tuition discounts and a dedicated military support services team help active members, veterans, and military families attain higher education. Working students benefit from Capella's flexible online college programs.
Capella University offers students both outstanding academics and practical skills. Faculty members are scholars and practitioners in their fields who know what companies look for in employees.
Capella University is accredited by The Higher Learning Commission and is a member of the North Central Association of Colleges and Schools. Capella University has formal alliances with over 100 corporations, the armed forces, and nearly 25 percent of all American community colleges.

---
Online College Programs at Capella University
Bachelors Degree Programs
BS - Accounting
BS - Business Administration
BS - Finance
BS - Management and Leadership
BS - Project Management: Business
BS - Retail Management
BS - Health Care Management
BS - Human Resource Management
BS - General Psychology
BSN - RN-to-BSN Completion (CCNE-accredited)
BS - Criminal Justice
BS - Emergency Management
BS - Homeland Security
BS - General Information Technology
BS - Health Information Technology
BS - Information Assurance and Security
BS - Information Technology Project Management
MBA Degree Programs
MBA - Accounting
MBA - Business Intelligence
MBA - Entrepreneurship
MBA - Finance
MBA - General Business Administration
MBA - Global Operations and Supply Chain Management
MBA - Marketing
MBA - Project Management
MBA - Health Care Management
MBA - Human Resource Management
MBA - Information Technology Management
Masters Degrees
MHA - General Health Administration
MHA - Health Care Operations
MHA - Health Policy
MPH - General Public Health
MPH - Health Management and Policy
MPH - Social and Behavioral Sciences
MS - Gerontology
MS - General Marriage and Family Counseling/Therapy
MS - General Addiction Counseling
MS - General Mental Health Counseling
MS - General School Counseling
MS - General Studies in Human Behavior
MS - Instructional Design for Online Learning
MS - General Human Resource Management
MS - Training and Performance Improvement
MS - Curriculum and Instruction
MS - Early Childhood Education
MS - K-12 Studies in Education
MS in Education - Leadership
MS - Leadership in Educational Administration
MS - Reading and Literacy
MSN - Diabetes Nursing (CCNE-accredited)
MSN - Gerontology Nursing (CCNE-accredited)
MSN - Nurse Educator (CCNE-accredited)
MSN - Nursing Leadership and Administration (CCNE-accredited)
MS - Applied Behavior Analysis
MS - Child and Adolescent Development
MS - Clinical Psychology
MS - Counseling Psychology
MS - Educational Psychology
MS - Evaluation, Research, and Measurement
MS - General Psychology
MS - Industrial/Organizational Psychology
MS - Leadership Coaching Psychology
MS - School Psychology
MS - Sport Psychology
MPA - General Public Administration
MS - Multidisciplinary Human Services
MS - Social and Community Services
MNML - Nonprofit Management and Leadership
MS - Criminal Justice
MS - Homeland Security
MS - Public Safety Leadership
MS - Business Analysis
MS - Enterprise Software Architecture
MS - General Info Systems and Tech Mgmt
MS - Health Information Management
MS - Information Assurance and Security
MS - Network Management
MS - Project Management
Doctorate Programs
DBA - Leadership
DBA - Human Resource Management
DBA - Business Intelligence
DBA - Finance
DBA - Global Operations and Supply Chain Management
DBA - Marketing
DBA - Strategy and Innovation
PhD - Finance
PhD - General Business Management
PhD - Marketing
PhD - Accounting
PhD - Human Resource Management
PhD - Information Technology Management
PhD - Leadership
PhD - Management Education
PhD - Project Management
PhD - Strategy and Innovation
PhD - General Advanced Studies in Human Behavior
PhD - General Counselor Education and Supervision
DHA - General Health Administration
DHA - Health Care Leadership
DrPH - Epidemiology
DrPH - Health Advocacy and Leadership
PhD - Health Care Administration
PhD - Criminal Justice
PhD - Emergency Management
PhD - Public Safety Leadership
EdD - Educational Leadership and Management
PhD - Instructional Design for Online Learning
PhD - Leadership for Higher Education
PhD - Nursing Education
PhD - Postsecondary and Adult Education
PhD - Professional Studies in Education
PhD - Training and Performance Improvement
PhD - Multidisciplinary Human Services
PhD - Nonprofit Management and Leadership
PhD - Social and Community Services
PhD - Addiction Psychology
PhD - Educational Psychology
PhD - General Psychology
PhD - Industrial/Organizational Psychology
PsyD - School Psychology
DPA - General Public Administration
EdD - Reading and Literacy
PhD - Curriculum and Instruction
PhD - K-12 Studies in Education
PhD - Leadership in Educational Administration
PhD - Special Education Leadership
EdS - Curriculum and Instruction
EdS - Leadership in Educational Administration
DNP - Nursing Practice (CCNE-accredited)
DSW - General Social Work
PhD - General Information Technology
PhD - Information Assurance and Security
PhD - Information Technology Education
PhD - Information Technology Project Management
Certificate Programs
Post-master's Certificate - College Teaching
Graduate Play Therapy Certificate
Return to the top of Capella University Online College Degree Information
Return to the top of Online Colleges and Universities in the USA Directory
Go to Capella University Student Reviews to read or submit review