Capella University Reviews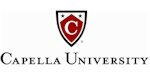 Capella University is a large accredited institution that promises the challenge and quality of a traditional classroom education and the flexibility to fit education into your life.
Tuition Assistance: Over 60% of Capella University students utilize some form of supplemental financial aid. If you are employed, you may qualify for employer reimbursement-more than 1,300 corporations and government organizations have sponsored employees earning a degree at Capella.
Degree programs: Over 70 online Bachelors, Masters, MBA, PhD degrees and Certificates in Business, Education, Healthcare, Public Administration, Information Technology and Psychology.
---
Ready to Rant or Rave about Capella University ?
Share Your Review below...
...and we'll create a webpage here with your Capella University Review so others may benefit from your experience.

What was your learning experience and coursework like? Quality of the course and learning materials? Were the professors responsive and committed to your success? Was the faculty and administration supportive? Any interaction with fellow students? What were the online learning tools you used? Did distance learrning fit your needs? How about the cost? Any tips, advice, recommendations you can give to other learners?
Read Other Capella University Reviews
Click below to see reviews from other visitors to this Capella University page...
Return to the top of Capella University Reviews
Return to Online Student Reviews for more students reviews
Return to Capella University Online College Degree Information